Go Nuts!
| | |
| --- | --- |
| School: | Chowan University |
| Team: | Kendall Butler, Naiyhani Etheridge, Melany Garcia Lopez, Samantha Reece |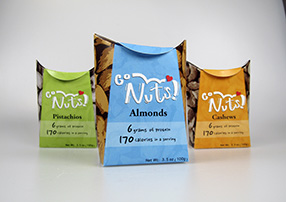 After observing in-store packaging of nuts, we noticed they typically involve a couple methods, but we noticed smaller contents typically correlate with less functionality. Go Nuts! is designed on the basis of allowing the consumer to easily open and close the package using simple methods, without having to allocate extra time or funds into less efficient design processes. Nuts are considered a hand-held food, but typical on the go packaging is cheap and has to be ripped open, where Go Nuts! allow easy access and re-access without making a mess or having to throw anything away, as it is made of fully recyclable paperboard packaging.
The protection of our planet is becoming more and more critical to our survival, so Go Nuts! adapts to environmental developments of on the go product packaging to help further such an important agenda. Go Nuts! gives consumers a healthy snack option that provides for vital nutrition in place of other popular sugar-filled snacks. Each package was designed uniquely, including a vibrant color scheme, original student photography and artwork, including a unique logo illustration and arrangement, and informative, product relevant trivia, all in an effort to not only catch the shopper's eye, but to leave a lasting impression on every customer.