Crè Pistachios
| | |
| --- | --- |
| School: | RIT |
| Team: | Heidy Lizardo, Jenny Ngo |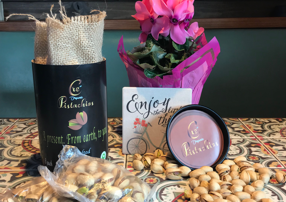 Two girls connected over their love for our planet earth and believed that mother nature's natural gifts should come packaged in a way that has her in mind as well. That is how they came up with "Crè's Organic Pistachios". Crè, which literally translates to earth is carrying out a mission to give you and your family all of the health benefits pistachios have to offer without taking away from our planet and creating unnecessary waste.
We believe that implementing more sustainable technologies for the packaging industry will benefit us all. In the current market, pistachios are often packed in plastic pouches, we all know how bad plastic is for our planet. Even when disposed of properly they can escape from trash bins, recycle bins, garbage, and trucks, since they are so lightweight.
This is why we have decided to give you your favorite snack in a more planet-friendly way. 100% biodegradable and portion-controlled package so that while Mother Nature is taking care of our families we can ensure she stays healthy as well.
Made out of paper board and supported with a steel bottom and lid our cylinder is decorated with simple and elegant graphics, making it eye-catching for the consumer and possible to re-use. The package contains 8 individual portion-controlled 100% bio-based pouches with 28 grams of product each. These pouches are held in hand sewed sack to provide extended protection to the product.
Made from a root vegetable our cassava-based pouches reduce plastic usage. It also contains starch, vegetable oil, and organic resins. The material is biodegradable and compostable, breaking down over a period of months on land or at sea. However, it dissolves instantly in hot water.
A serving contains 160 calories and can help you satisfy your snack cravings. Oven roasted with no added oil, pistachios are an excellent source of vitamin B6, copper and manganese. Scientific evidence suggests that eating 28 grams per day of nuts, such as pistachios, as part of a diet low in saturated fat and cholesterol may reduce the risk of heart disease.