Volt Batteries
| | |
| --- | --- |
| School: | Clemson University |
| Team: | Erin Hongsermeier, Wayne Stevenson, Rebecca Bunch |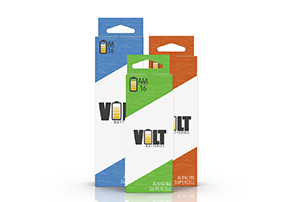 For years, batteries have been packaged the same way, a clear plastic blister package backed by a printed card displaying the companies all too familiar graphics. If you have every tried to open one of these packages in a hurry, or even slowly for that matter, you know how difficult it is to access the products inside without tearing the package to shreds or cutting your finger. Once you have successfully managed to obtain the one battery you needed, you are left with no choice but to throw the remaining loose batteries in your overflowing "junk drawer" (we all have one). Not only does this package lack functionality and consumer appeal, its design does not promote recycling of the package or product. Volt Batteries has taken an innovative approach to improve the short comings of the current package and introduce new concepts to the industry.
The redesigned package aims to improve consumer interaction, increase functionality and promote recyclability. The perforated tear tab makes opening the package easier than ever and the gravity fed dispensing system allows consumers to easily access the perfect number of batteries in seconds. The small, narrow design of each package fits perfectly in any consumer's hand, and the narrow diecut window on the side of the carton allows consumers easily see how many batteries are left. The sleek design fits conveniently in a drawer or cabinet and stores unused batteries in an organized manner. The highland bottom and tuck top make manufacturing and filling more efficient, while the hang tab allows to the package to be displayed on hooks or standing on shelf in the retail environment. Additionally, the bright graphics help the product stand out amongst the commonly dark colors of competitive brands and the varying colors help distinguish between the different types of batteries the company offers. Finally, this solution promotes recyclability of not only the package, but product as well. Made of Neenah Conservation fully recyclable, 92% white board and optimized to fit each type of battery, the package significantly reduces waste. The battery return hole allows consumers to collect dead batteries and the yellow stopper indicates when the package is full and ready to be taken to a recycling collection center.
This nontraditional package is sure to stand out on the shelf and improve consumer satisfaction through superior advances in opening, handling, dispensing, and storing. So, if you are tired of the impossible to open, hard to use, boring battery packages on the market today…revolt and choose volt.