Jungle Bites
| | |
| --- | --- |
| School: | Cal Poly San Luis Obispo |
| Team: | Sam Barber, Mackey Peek, Brendan Smith |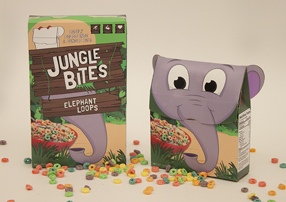 On weekend mornings, kids look forward to sleeping in, watching their favorite cartoons,
and eating cereal while pondering over the cereal box. However, in all the excitement of choosing their favorite cereal, filling the bowl to the rim, and hastily stashing the box back in the pantry, maintaining freshness of the dry cereal by meticulously rolling down the inner plastic bag is not a top priority. Children also constantly knock over or drop these boxes causing all of the cereal to spill and create a mess.
With Jungle Bites, the fun of the box will help preserve the cereal itself. Folding the box over pinches the bag insert preserving the cereal inside; this also creates a friendly jungle animal that children will love to make. Parents will not have to worry about their child forgetting to properly close the cereal anymore. Children will want to close the box to bring their jungle pals to life! Jungle Bites will last longer and prevent a mess if the box is knocked over.
Assembling your new jungle pal is simple enough for any child to do. The package incorporates a simple, yet incredibly clever solution by simply utilizing the extra air space in a cereal box to allow the box to be folded over, keeping the cereal in the bag and the air out. Parents will love this added feature because not only does it create a seal for the bag, but it also acts as an activity for the child to assemble. The innovative package also allows for easy storage by taking up less space than traditional boxes in a pantry.
An important consideration when designing this package is the manufacturability. Manufacturers will not need to change any processes on their packaging line. The only change will be creating a new die to add the new strategic creases and perforations, saving money and time. By using 100% recycled, lightweight paperboard, this package reduces the carbon footprint during material manufacturing and distribution.
Current cereal boxes are shaped the way they are to utilize marketing space on the shelf and allow for easy palletization in mass production. Jungle Bites remains competitive by keeping the iconic cereal box shape on the shelf.
Jungle Bites provides 3 delicious cereals, Elephant Loops, Tiger Stripes, and Monkey Munch. Kids can enjoy their breakfast sitting next to their favorite animal friends, turning another meal into a positive and stimulating start to their day!