HighRise Deli
| | |
| --- | --- |
| School: | Virginia Polytechnic Insitute & State University |
| Team: | Marlon Levy-Faigen, Loc Pham, Alex Beason, Landon Holbert, Keith Montminy |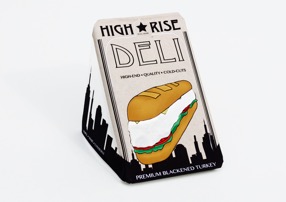 Deli meat zipper packs have been a mealtime inconvenience as long as they have been around. Fumbling with their tamper seals, meaty messes all over the user's hands, and not being able to re-zip the bag were just a few of the problems that consumers had come to accept.
High-Rise Deli knew that lunch meat didn't have to be so difficult. Our innovative triangular deli-meat container was designed for ultimate functionality in every environment– from the shipper, to the store, to the customer's fridge. The unique combination of a 45 degree dispensing angle and the peel and reseal lid means that customers can open, retrieve a slice, and close the package, all with one hand. There's no need to even take it out of the fridge if they only need a few slices. Unlike those jumbled, soggy bags of lunch meat, High-Rise presents our premium deli cuts in a neat, appealing manner. Each cut is carefully folded and laid on top of the next, not only making for an impeccable first impression, but also making it easy to retrieve a single slice at a time.
We wanted our product to be different, but also recognized the need for efficient packing and shipping. That's why our containers nest together to fit perfectly a variety of shippers, while also fitting in standard grocery store deli push-forward racks. We knew it was important for our grocers to appreciate High-Rise's unique design just as much as our customers.
When considering the construction of our package, we chose to use safe, affordable, and environmentally conscious materials. Our thermoformed tray, the backbone of our package, is extremely low cost to produce, lightweight, and made of easily recyclable PET. We included an extra-large recycling symbol in our thermoform to ensure that customers recycle the package correctly.
The thermoformed tray provides crisp, clear viewing of the product from all six sides, while also providing significantly more surface area for advertising. We recognized that when buying deli meat, customers want to be able to see our premium cuts, so we took advantage of this extra printing real-estate without impeding their view of the product.
Ditching the zipper doesn't have to mean tupperware. With High-Rise, it means choosing single handed dispensing, unique product display and visibility, efficiency in shipping and packing, and a readily recyclable container.