Chemie
| | |
| --- | --- |
| School: | University of Kansas |
| Team: | Zaira Torres, Kristen Engart, Kayle Riebel, Rebekah Winegarner |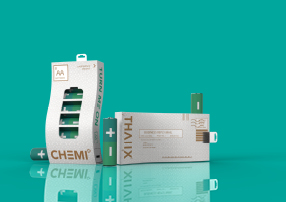 PROBLEM: Batteries needlessly clutter the corners of junk drawers everywhere. We know they're toxic for landfill, but can't find the time to recycle them, let alone remember which ones are dead. Not anymore.
SOLUTION: Thanks to a fresh new company, CHEMIE, recycling batteries is as easy as tossing the them in the mailbox instead of the trash.
As you push new batteries out of the bottom of the box, simply slide your old used batteries in through the top. An indicator on top of Chemie batteries will keep the fresh ones and the used ones you put back in separated. You'll know the pack is out of fresh batteries and ready to be recycled when the indicator is at the bottom of the pack preventing you from dispensing any more batteries. Once your Chemie box is filled with used batteries, just remove the sticker on the back to reveal the prepaid shipping label, and place the whole shebang in your mailbox. Now it's the mailman's problem!
Oh and by the way, Chemie leaves an extra slot in every package, so when you buy 8, you'll be able to recycle 9 just by putting the used box in the mail. It's that simple. Bring a little chemistry back to your junk drawer, and use CHEMIE.