BRIO
| | |
| --- | --- |
| School: | Portfoli Center |
| Team: | Brennan Holloway, Dan King, Mary Elizabeth Morse, Brian Pace, Gene Lynne Rivera |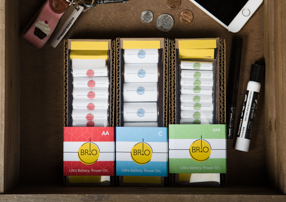 BRIO is a company that provides the responsible and smart option for household batteries. Statistics show on average 70 percent of people recycle paper and plastics, but only 31 percent responsibly dispose of batteries, mostly due to a lack of easy to use facilities. By making recycling of used batteries simple, we can change how people dispose of these materials that otherwise would end up in land fills and incinerators. Our branding focuses on being smart, clean, responsible, functional, and organized. BRIO is an Italian inspired word meaning vitality, performance, style, and energy. Through our research, we found that most battery buyers are purchasing in bulk (storm preparedness, college shopping, setting up a new home, senior citizens). Therefore, we created a family of packages containing 6 C-cell batteries, 24 AA-cell batteries, or 40 AAAs.
Through the innovative and easy to use package, we have created a simple way to ship used batteries back to the facility for recycling. With the hinged openings on either end, the ability to
grab new batteries from the front and place used batteries in the back contributes to the ease of the process. Along with the hinged opening, the rigid construction and use of responsible materials aids in the shipment of the batteries. When all of the batteries have cycled through, there is a stopper that seals the opening and holds a prepaid shipping label that is easily pulled from within and wrapped to contain the contents. This helps reduce the recycling process by transforming the original package to the one that actually gets shipped reducing wasted materials. On the sides of each package, we have designed an interlocking system that improves organization and functionality wherever batteries are stored.
Our choice of colors used high contrast, saturated spot colors in an o set style employing modern monoline and influenced by contemporary Italian illustration. These colors are matched with the variant of the battery type (blue for C batteries, red for AA, and green for AAA. This intentional use of color as an informative element furthers our brand characteristics. Design elements evoking circuit board lines appear on our logo, as well as in a tone-on-tone pattern in use as a border element.
BRIO is Life's Battery. Power On.