Twisted Bean
| | |
| --- | --- |
| School: | Creative Circus |
| Team: | J.W. Affourtit, Ariel Booth, Mandy Cobb, Pat Hart, Estephania Martin |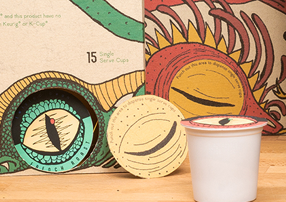 Twisted Bean revolutionizes dispensing Keurig compatible K-cups. The innovative
design encompasses style, efficiency and environmental responsibility. The hassles of current
K-cup packaging end with Twisted Bean's multifunctional and user-friendly design.
All Twisted Bean packaging uses eco-friendly products. Though K-cups themselves
aren't recyclable, twisted Bean's use of hemp-based paper reduces waste exponentially. As
opposed to wood-based paper, only recyclable 3 times, this hemp-based paper is recyclable up
to 7 times. The use of soy-based ink, which eases deinking, also enhances the recycling
process.
Illustrations were chosen based on native folklore from the coffee's country of origin. By
removing the perforated sleepy eyelid of the beast, the user exposes the awakened expression
of the creature. Additionally, gravity carries the burden of dispensing the K-cups in a uniform
fashion.
The packaging allows the consumer to free up valuable counter and pantry space
through the slim, rectangular design. As an added bonus, the hand-done illustrations function as
a unique art piece.
As K-cup users, Twisted Bean noticed that many times the used K-cups were stacked by
the Keurig machine and not thrown away after use. The multifunctional design allows for the
packaging to be used as both a dispenser and a trashcan by reusing old grocery bags that are
inserted into the top of the open package.