Total Package
| | |
| --- | --- |
| School: | Portfolio Center |
| Team: | Brook Sutherland, Brendan Brines, Michael Booth, Preston Thompson |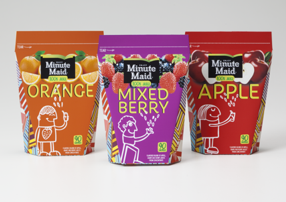 The functionality of Minute Maid's new design is simple, effective, and engaging. Cutting
down on material waste is our biggest motivation for altering the layout. By changing the juice
box into a pouch, we are able to use GreenCoat Paper. GreenCoat is a 100% recyclable and
repulplable paper product. Current juice boxes can take over 300 years to decompose and are
only accepted at specialized recycling centers. With millions of juice boxes sold in the United
States every year the amount of leftover trash is staggering. Our environmentally conscious
pouches are a new way for large corporations to lessen their carbon footprint.
Instead of eliminating the straw from the drink all together, we decided to embrace it as
part of the permanent design. The top edge of the pouch is sealed to keep the straw sanitary,
but perforated so it's easy to open. Parents no longer have to worry about their children losing
straws or broken plastic rendering a straw dirty.!
Vibrant colors on the front and back of the pouch immediately present a stronger shelf
presence than the original white packaging. It also enables the consumer to discern between
flavors.
Different colors, shapes, and patterns are printed on the sides to create visual conflict.
They double as a learning tool for our target market as they are starting to memorize shapes
and their names. To further connect with children, illustrated characters adorn each pouch. In
keeping with our intent to cut down on waste, the larger packaging that houses the pouches can
be repurposed as a coloring book. The inside of each box has a unique story that can entertain
and teach valuable lessons to kids. The introduction of characters allows for scalability to other
media. Each juice pouch is an opportunity for Minute Maid to put a friendly face with their
product.
At every level the new Minute Maid Juice Pouch is an improvement. It's easier on the
environment, more attractive to children, and less worrisome for parents.