The Coffee Club
| | |
| --- | --- |
| School: | Michigan State University |
| Team: | Jill Bickley, Genevieve Gagnier, Alie Slagle, Hanna Holmi, Chloe Jennings |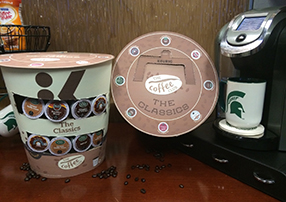 They say life is about the little things, so why not package all the little things in
something larger than life? The Keurig K-Cup has become an iconic part of today's culture
providing a delightful and convenient brewing experience. With that comes the recognizable
shape and strong market presence. The Coffee Club Multipack mimics the K-Cup shape, so
consumers instantly make a Keurig connection when they see it.
In the current K-Cup bulk pack, the pods are scattered in a standard folding carton. This
cluttered system causes consumer frustration when they can't find their favorite blend. The
Coffee Club Multipack provides consumers with an interactive experience that is sure to be a
crowd pleaser wherever it goes. The design is a functional and visually appealing container while
also acting as a conversation starter for your morning coffee break. The pack holds 30 individual
K-Cups, which is comparable to existing bulk packs. A simple die-cut handle provides the ideal
ergonomics for convenient carrying and ease of transport. Consumers can bring their favorite
variety packs anywhere they desire. The Coffee Club Multipack is made entirely from
paperboard, which supports Keurig's commitment to sustainability and offers a solution for
promoting consumer recycling efforts. The perforated zipper tab reveals an array of blends and
allows the K-Cups to spiral down around the outside of the package. Individuals are reminded to
get their day rolling with one of their favorite brews.
The variety of blends Keurig offers matches the diversity of the events The Coffee Club
can be a part of. All flavors are easily displayed, so there is no longer a stressful hunt to find
that beloved brew. With the ability of the pack to contain multiple flavors, it truly supports the
gathering of people, each with their own unique taste. The pack also removes the need for
separate racking systems that require consumers to stock themselves. It is the perfect addition to
any kitchen countertop, office, social gathering, or holiday event. The strategic placement of the
K-Cups offers an excellent presentation of the individual pods and clearly displays the unique
flavors that were picked for each edition of The Coffee Club.
The Coffee Club offers the perfect opportunity for individuals to reconnect with family,
friends, and coworkers and appreciate their surroundings. From quality coffee to meaningful
conversations, The Coffee Club provides an unexpected platform for individuals to recognize
how important the little things are in life. Take that extra moment today to have a cup of coffee
and not only awaken your tired eyes, but awaken a new perspective on the simple things that
matter most.