Paula Ip
| | |
| --- | --- |
| School: | Pratt Institute |
| Team: | Paula Ip, Nadia Izazi, Julien Noguera |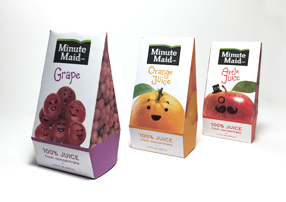 Giving a juice box for your toddler? Within seconds, frustration sets in with the easily detached, but lost straw, and you haven't even opened the juice box!
Handing the juice box with the straw inserted over to your kiddo? Splosh! The juice ends up everywhere and creates a complete sticky mess. Themselves, the dog, the rug… No matter how careful you tell your kid to be, the unwieldy package will always be squeezed too hard and the content squirts out the straw like a geyser. Half of the carton is empty and your child hasn't even taken a sip! The problems start with the shape of the juice box and the straw that frequently comes off the box. 
The newly designed Minute Maid juice box packaging solves it all. With its eye-catching new design, this angular ergonomic structure makes handling the package a breeze; its squeeze-proof and spill-proof design fits perfectly into your child's hand. We also place a special focus on how the straw is made. Tearing the perforated section opens the package and unveils a built-in straw, which reduces over-packaging, eliminates misplacement, and enhances your overall experience as a consumer.
Our solution is based off of the existing recyclable liquid packaging board, which consists of six layers: paper, polyethylene, and aluminum, making it recyclable and safe for your children. Our fresh Minute Maid juice packaging design provides an easy way to enjoy a stress- and mess-free experience.