Minute Maid® Prisim
| | |
| --- | --- |
| Team: | Anna Henderson, Cat Buchanan, Cierra Stein, Tayllor Sembler |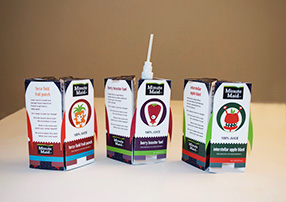 A discombobulated giraffe on planet Vertigo is still more coordinated than the average child. Kids just don't have the fine motor skills required to operate a juicebox properly. And that's okay.
Minute Maid believes little hands shouldn't be chastised for lack of finesse. Juice boxes shouldn't aggravate, demotivate, or frustrate. They should only bring joy and juice.
The juice box needed to be remedied of its primary flaws: easy spillability, difficulty opening, and lack of resealability.
When the box is changed to a triangular prism the two structurally vulnerable sides of a rectangle are eliminated. With three sides, children's hands will automatically grasp a flat side and a corner while drinking, making the prism difficult to squeeze and less likely to spill from excess pressure.
The prism is built with a collapsible straw that is pulled up by lifting a tab. The bottom of this tab will house a stopper which reseals the straw when the tab is replaced. Tears shed over lost straws or spilled juice will be eradicated.
The prism will hold the same six ounces of juice the previous version did and use the same amount of packaging for the box structure. The straw will remain the same material as will the prism, aside from a section of recyclable polypropylene film used for die cuts.
The prism inspired a rocket design theme. Each juice box is a spaceship with its own fruit inspired alien inhabitant. When it's time for blast off, lifting the tab reveals a countdown, and raises the "needle" or straw. A film die cut will be at the bottom of the box, between the rocket's engines. When children blow through the straw, bubbles form and look like smoke from a launch. This aspect of the box encourages playful interaction with the product.
Find the new Minute Maid juice prisms in a galaxy near you.