Minute Maid Kids Juice
| | |
| --- | --- |
| Team: | Jermaine Donnell, Alex Cohen, Jacqueline Day, Alex Rainey |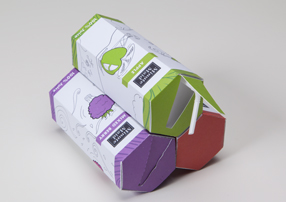 How can juice boxes be synonymous with fun again? We asked this question because the typical juice box has brought moreof a burden in even the most simplest design. The burden falls primarily on the two main members of our audience: the kids and their parents. Our goal was to make juice boxes more convenient and fun.
One issue with modern juice boxes is that many times the straw detaches and gets lost. It can also be sharp and dangerous to some users. When used improperly the sharp straw can force juice to squirt out of the box. Another issue is the ease of which a juice box gets crushed because of the awkward shape and the way users are forced to hold it, which can lead to a sticky mess.
The first thing we focused on was the form. By using the most efficient shape, a hexagon it provides various surface areas which relieve the stress of holding an unnatural shape so tightly for grip. For the materials, we used eco-friendly TetraPak to store liquids. Another alternative would be to use 100% biodegradable bamboo paper, which uses less water to grow and manufacture. These materials make it easy to recycle. We also used bamboo in the making of the straw to ensure the packaging remained 100% biodegradable.
To solve the problem of the straw detaching and getting lost, we integrated the straw into the box itself and created a perforated, vacuum-sealed pull tab to hide it under until the child (or parent) is ready to consume the juice. Underneath the tab, the straw is inserted already into an angled top to ensure any spillage will remain housed within the packaging itself.
Lastly we decided to portray illustrated fruit as a means of adventure; a submarine, a helicopter, and hot air balloon. The scenes help spark kids' imagination to an adventure wherever they take the juice boxes.