Minute Maid® Fruit-Cats
| | |
| --- | --- |
| School: | Georgia State University |
| Team: | Katie Welch, Andres Burton |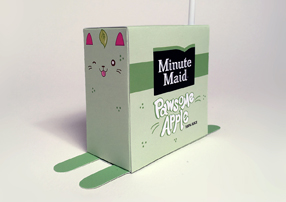 For the Coca-Cola® Challenge,
repackaging the Minute Maid®
kids juice box, our team
designed a box that answers
the main problems presented
by the original packaging: the
straw detaches and gets lost,
and the puncture style
packaging can be hard for
kids to open by themselves.
#1: Our innovative Fruit-Cats
box comes with a pouch on
the back that carries the straw,
carrying it securely. It requires
less packing and produces
less waste.
#2: The Fruit-Cats box was
designed with kids and
parents in mind. By having a
lower base, it is less prone to
toppling over and spilling. The
empty box also makes a fun,
impromptu toy, complete with
foldable paws and detachable
straw tail!
#3: Kids will have a much
easier time using the straw on
the new Fruit-Cats box, thanks
to our easy peel leaf that
opens the drink. Gone are the
days of sturggling to puncture
the film and making a mess!
Overall, kids will have have a
lot of fun with the whole
Fruit-Cats line: Pawsome
Apple, Purrfect Punch, and
Catastic Lemonade. We feel
that the product has legs and
can be developed in multiple
directions, increasing the line
even beyond cats and into
other pets such as dogs,
rabbits, birds, etc. Ultimately,
Fruit-Cats is about having a
pet of your own to play with
and quench your thirst –
all thanks to Minute Maid®!