Minute Maid Friends
| | |
| --- | --- |
| School: | University of Bridgeport |
| Team: | Xinyu Yuan, Xiaowei Lu, Lu Wan |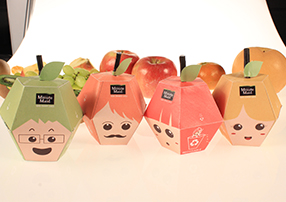 Kid's beverages in the market currently has lots of drawback. Firstly, the straw for kid's beverage usually come pasted outside of the beverage packaging. This leads to the straw prone to disappearing in the process of transportation. Secondly, the place for popping in the straw are usually too small and at inconspicuous place, resulting the complexity of kids inserting the straw. Thirdly, the existing flexible packaging also has the issue of spilling when inserting the straw. Lastly, design in most of the existing kids beverage in the market is also lacking playfulness and creativity that unable to attract kids or their parents.
With all these problems in mind, our group decided to come out with a solution to the Minute Maid kids juice box for the Coca-Cola Challenge, introducing the Minute Maid Family.
Firstly, Minute Maid Family juice box has a platonic shape of a combination of two halves of a decahedron that provides stability to the packaging. The packaging requires kids to hold with both hands, by doing so, it greatly reduce the possibility of the beverage from flowing out.
Secondly, the Minute Maid Family was designed for kids to relate the juice box to daily life object that they would encounter. The designed shape opens up kid's imagination, by closely resemblance shape of a fruit, football, and maybe a kid's favorite burger too! The packaging was also designed to be consistent with the kids gripping ability and love of spherical object.
Thirdly, Minute Maid Family has built in straw in the juice box to prevent loss of straw during transportation and easy for kids handle without the need of inserting a straw to the beverage. The built in straw is hidden at the top of the beverage under a pulling tab that can be easily open. At the same time, the straw has minimal contact to the external environment which helps in preserving the freshness of the beverage.
Overall, Minute Maid Family is designed to meet the aesthetic needs of kids nowadays; to appeal to kids as well as getting their attention. Minute Maid Family's playful and attractive packaging design will definitely distinguished itself fro­­m other kid's beverage that is currently in the market which will put Coca-Cola ahead of their competitors.