Minute Maid Box Juice
| | |
| --- | --- |
| School: | Art Institute of Atlanta |
| Team: | Iman Josey, Nadia Rahman |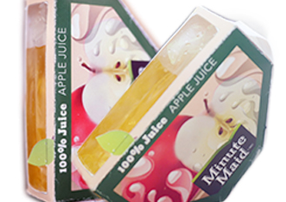 I chose to redesign the Minute Maid Juice box because as soon as I read the coca-cola
challenge I felt as if it hit home for me. I love Minute Maid Juice boxes but I always struggled
with a lost straw. I redesigned the entire packaging starting with the shape of the box. I was
inspired by a sandwich box with had three sides and showed me the inside of one half of the
sandwich. I decided to take that design and show the juice to the parents. After my first day of
research I saw that a small puncture in the juice boxes can cause mold to grow. With the clear
insert parents can see what their children are drinking. The box design allows the juice to sit on
any side except the side of the straw. I also decided to have the straw pre-inserted into the
packaging rather that as a detachable. Kids can easily remove the tab and stick to the side of
the box to be recycled when finished or replaced to save for later. The straw can be pulled up
and adjusted for safe and comfortable drinking.