Keurig Redesign
| | |
| --- | --- |
| School: | School of Packaging |
| Team: | Austin Liu, Victoria Jansz, Taylor Malatinsky, Collin Cunningham, Trevor Boukamp |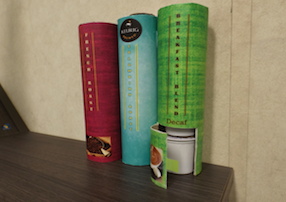 Although the Keurig K-cups display innovation and unique design, their current packaging does not complement these attributes. Redesigning the package will improve the visual appeal of the product, while creating a convenient method for consumer interaction. This new package reflects the convenience and simplicity that Keurig K-cups are known for, and revamps the way in which the package can be utilized for display.
The tube-like structure of the package is designed to minimize counter space usage due to its slender body. This feature also allows for the product to be stored in small spaces, such as cabinets and retail shelves. The design improves the functionality of the product by keeping the K-cups organized in a uniform stack. Each flavor has its own package, providing a quick way for consumers to locate the desired coffee.
The package features a perforated door at the bottom that, when opened, permits the dispensary of a single K-cup. Once the K-cup is selected, the next cup falls, taking its place. This unique dispensing method enables an excitable way for consumers to interact with both the product and package. In today's fast-pace society, this creative design appeals especially to consumers on the go, looking for a speedy and simple way to get a coffee fix.
The paperboard material used in the package design is 100% recyclable. This feature promotes sustainability, and provides a lightweight method all while protecting the integrity of the product. The paperboard body allows premium printability for easy communication between the company and consumers. There will be a shrink-wrap around the variety pack of three and if more is wanted, it is possible to have a variety of six. With the shrink-wrap, it is also feasible to provide multiple three packs in one. The shrink-wrap protects and keeps the tubes together for distribution purposes. Overall, this new package improves the way the product is presented to the consumer, and simplifies the process of interaction.