Keurig Breakfast Bouquet
| | |
| --- | --- |
| School: | The Creative Circus |
| Team: | Manya Swick, Caitlin Parent, Katherine Law, Lina Bahri |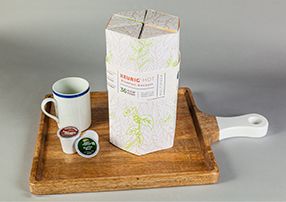 Early risers reap the benefits of the sun's first rays. As you awaken, your senses unfurl to greet the
morning light. Wipe the night's grogginess from your eyes, stretch your limbs, and make your way to the
kitchen to begin your day.
Keurig's Breakfast Bouquet offers a variety of blends to so everyone in your home has their favorite flavor
in a matter of minutes. From bold and dark to light and mellow, every cup brings you the fresh start you
need. In the morning, why just rise when you can bloom?
Keurig Bouquets save you counter space and time so you can get to your day. The modular design allows
you to customize your display and each petal can be removed for even more convenient storage. The
entire bouquet can be opened up so you can see your full range of flavors.