Fruity Feels
| | |
| --- | --- |
| School: | Portfolio Center |
| Team: | Lexie Craig, Kaitlyn Clark, Gina Cassaro, Rose Falcone |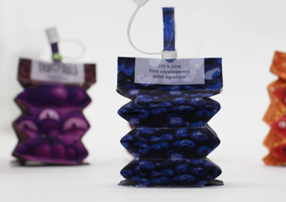 In the past and still today, there seems to be a common theme among
juice packages – stick a straw in the top and squeeze. But, with this
comes over-squeezed spillage and runaway straws before you can
even enjoy your juice. A definite solution is needed for the structure of
a juice box that a child can hold. Children are busy and active and call
for a juice box that can withstand a little squeezing and tipping.
Fruity Feels addresses these issues by following the same squeeze
pouch idea, but allowing it to be more of an adventure for the child and
a less messy adventure for the parent. Fruity Feels is a 4-pack of juice
pouches that each portray their own emotion and characteristic. We
are happy to introduce Giggly Grape, Sassy Strawberry, Ferocious Fruit Punch,
and Bashful Berry. The idea allows for a more playful and interactive
approach to the traditional juice flavors.
The Fruity Feels packaging itself has a new design aside from the
previous juice box pouch. We found an eco-friendly package
solution, paperboard packaging, by Evergreen Packaging. Made from
renewable and recyclable materials, over 50% of the energy used to
create these paper products is renewable coming from biomass. No
part of the tree is ever wasted in the manufacturing process. The
material has a proprietary barrier board designed to keep oxygen out
and vitamins and taste in helping to lock in freshness and extend shelf
life. The new pouch has indented structured sides that allow for busy
kids on-the-go to hold easily. This form also permits maximum
squeezing with no spilling. Additionally, the pouch's shape
is collapsible in order to reach every last drop of juice with
ease. Special attention was also paid to the juice box straw. Straws
have previously been attached temporarily to the outside of the
juice box for easy and convenient use. A seemingly good idea, but
generally leads to the perpetual problem of lost straws and then
juiceless children. To solve this issue, Fruity Feels uses a
biodegradable bendy straw complete with spill-proof cap. The straw is a biodegradable, compostable, 100% chlorine-free material made by
Eco-Flex. It comes already placed inside of the pouch but unable to
spill because of the cap and is entirely flexible for kidfriendly
amusement.
When concepting for Fruity Feels, we realized children psychologically
relate to brands through character association. With this in mind, we
decided to play with this motif in developing different "emotion"
personalities for each juice flavor. The variety of characters are playful
and energetic and will reach the target audience of young children and
parents alike.