Farmhouse Coffee Co.
| | |
| --- | --- |
| School: | University of Wisconsin - Stout |
| Team: | Kayla Hartfiel, Ryan Bowe |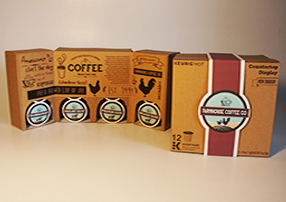 Welcome to the latest innovation from Farmhouse Coffee Co. This new counter top display will change each morning experience with Keurig K-Cups for up to twelve days. This 100% recyclable and compostable package will fit anywhere in the kitchen and look great.
The most unique part of the design is that upon removal of one K-Cup, the next cup is already waiting to be brewed. This is done by stacking the cups vertically and allowing gravity to self-dispense the next cup. With the face of each K-Cup displayed, users can easily distinguish between each of the four unique flavors offered. The openings that display these K-Cups have been designed to allow enough finger space to easily remove each cup.
When shopping for this product, users will notice that the package is nearly identical in size to current competitors. This was intentional! By designing with the shelf footprint in mind, this package will fit on any current shelf with no adjustments needed by the retailer. In addition, any previous distribution packaging will need only minimal adjustment and pallet efficiency will not be compromised.
Once the product is brought home and finds its way into the kitchen, the display options are endless. With side panels capable of swinging, the package can adapt to any location on the countertop. It will be noticed that while the neutral tones of this package fit well in any kitchen, it is not bulky or distracting. By limiting the number of colors printed, costs are reduced. This package also loves the earth as much as we do. The natural kraft materials and water-based inks used for the packaging are 100% recyclable or compostable.
When ready to stop wasting time digging in the cupboard, switch to the package that says good morning from the countertop.