Colin Egan / Evan Luza
| | |
| --- | --- |
| School: | Georgia State University |
| Team: | Colin Egan, Evan Luza |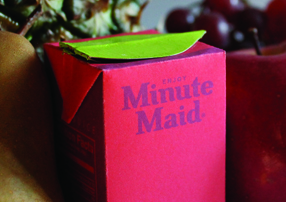 By adjusting the standard juice box while maintain the same volume size we were able
to achieve an intuitive, splashfree,
kid friendly, 100% recyclable redesigned juice box.
Our leaf seal technology gets rid of the wasteful plastic used to conceal the straw on the
outside of the box. Including the straw pre punctured into the juice box we eliminate the
excess plastic, juice spills, and straw malfunctions. The seal also protects the straw
from any external germs and bacteria while also letting you know when the box has
been tampered with. If every box was to include this style of packaging, Minute Maid's
carbon footprint would decrease significantly because the entire box can be recycled.