Be One With
| | |
| --- | --- |
| School: | Wichita State University |
| Team: | Lauren Osoba |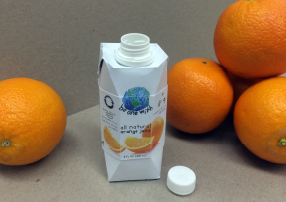 Be One With is a beverage company that takes the environment seriously. "Being one with the
earth" is not just our motto – it is our passion. We are helping kids learn to recycle through our
new program.
We use 100 percent recyclable cartons to package our all-natural juices. Our bottle-shaped
cartons are designed for tiny hands. And the spill-proof lid is perfect for on-the-go families. No
more messy, imsy straws lling up trash cans!
But when we learned only 20 percent of Americans had access to carton recycling, we knew
something had to be done.
So we took inspiration from some of our best customers. Kids across America, who know it
only takes one person to change the world. Introducing the One program. Kids learn to
recycle while redeeming points toward cool prizes.
Reduce, Recycle, Redeem has never been so easy! We are proud to be the rst company
oering 100 percent of our customers a hassle-free way to recycle their cartons.
Simply remove the label and atten the package. Scan the one-of-a-kind QR code with our
easy-to-use app. Drop the prepaid package in to the mail and begin receiving points within
days. Collecting points is easy and fun – and it is great for the environment!
Once we receive your recycled carton we scan the unique QR code and credit your account.
Be One With works with the United States Postal Service to insure we only pay to ship cartons
that are returned, which keeps the cost of our product low.
The entire paperboard carton can be recycled using this method, and we reuse the plastic lids.
Help us keep paper cartons out of landlls.
Because kids aren't just our best customers – they're our future too.
Be one with all-natural goodness.
Be one with the earth.