Unfluffled
| | |
| --- | --- |
| School: | Chowan University |
| Team: | Nicholas Hill, Bethoney Tinto, Marlon Jacobs, Jaleel Price |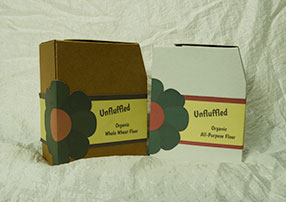 Using cooking flour is very messy and can easily become unsanitary. Flour packaging today requires more work than satisfaction.  These bags of flour create mess by just simply picking it up, and not opening carefully causing the bag to become torn and unusable again. In most homes and businesses the consumer has to use a container to store their flour, causing extra clean up later. Even after the consumer has the flour in a measuring cup there is the leveling process for cooking. Most consumers use a knife to level the top, creating more unneeded mess.
Our team, however, has come up with a simple, easy solution. Comprised of designers, video editors, and photographers who set aside time, and came up with Unfluffled. This product eliminates these aggravating complications by combining different features into a single, easy to use package. We focused our efforts towards benefiting everyone from corporate kitchens to use in your home. We have many features within our package that help eliminate the headaches and bring back the joys of being in the kitchen. Our package includes a magnetic clip that holds the lid firmly to the box, a built in leveling device, and an extra large opening for you to maneuver your kitchen tools. Our easy to store packaging, makes our product perfect for use in your home, and business.
Unfluffled leaves you with a mess-free kitchen and happy parents with children wanting to help measure. There is no waste and once the package is empty, it can be placed with the other recyclables or reused. Enjoy cooking more with Unfluffled.