Simply Flour & Co.
| | |
| --- | --- |
| School: | Virginia Tech |
| Team: | Samantha Phanthanousy, Eric Estrada, Dan Kim |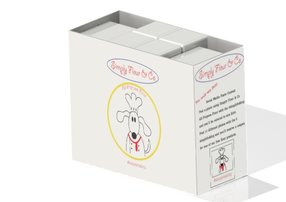 Flour packaging has continued to be a nuisance for consumers for several decades. The messiness of the package is evident from the flour dusted retail shelves. The situation escalates when the product is taken home to consumers' pantries. Measuring out the flour provides a whole other problem on its own. It is difficult and close to impossible to pour flour without making a mess. Measurements can also be inaccurate and time consuming.
The Simply Flour & Co. package is made of a foldable sheet with detachable pre-measured boxes of flour that come together to form a larger box. Each pre-measured box has a punchable tab for simple and easy pouring. The pre-measured boxes come in the three most popular sizes of flour, two cup, one cup, and half a cup measurements. Even though the flour is partitioned off, the overall package still holds just as much product as a typically flour bag.
The package is designed with a paperboard made of 70% recycled fibers. Which makes the package very sustainable, this leads us to the choice of color. The vibrant and simple choices of red, navy, and yellow allow the brand logo to pop. However, they are placed in eye-capturing areas to reduce the usage of ink.
The targeted demographic of this product are consumers who value convenience. This can range from a busy mother trying to cook dinner while caring for her child to a college student in a hurry to bring cookies to a bake sale. The pre-measured, no-hassle boxes save time and leave the kitchen flour-free.
The simplistic, yet engaging slogan on the package is #simplybaking. This gives the package and the company a more modern aspect. The hashtag allows consumers to search for everything related to the brand, but also allows interaction on social media. A marketing campaign will entail utilizing the hashtag; customers will upload photos of themselves using the products on social media sites with the hashtag for a chance to win money. Along with a coupon given to those that utilize the hashtag at least ten times. This creates a relationship between the product and the consumer.
Overall, the Simply Flour & Co. package stands out when it is on retail shelves sitting next to ordinary flour bags. It is the first of it's kind to provide the consumer with pre-measured cups of flour, while also being aesthetically pleasing and welcoming.