Organic Flour
| | |
| --- | --- |
| School: | University of Bridgeport |
| Team: | Ryan Therrien, Vanessa Strubbe, Kimberlee Nguyen, Clarese Grant |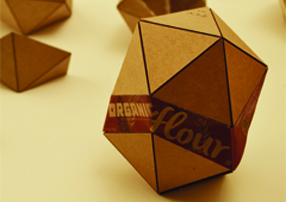 Traditionally flour has been packaged in a paper bag. The moment you pick it up clouds of flour dust start to fill your lungs, and the entire environment around you. When you open the bag it just gets worse and somehow ends up everywhere and sticks to everything. Suddenly what started out as a nice Sunday morning making pancakes has turned into a scene from "Scarface" and your left to clean the mess? Not to mention that now you're stuck with this huge bag of flour that you really only needed one time ever for some pancakes. After all the mess you're ready to throw it out and go to a diner.
We decided that it was time to end the tyranny of the old flour packaging that has ruined the mornings of so many American citizens. No longer will you have to struggle scooping messy cup after cup. No longer will you have to store unnecessary amounts of flour, wreaking havoc in your kitchens and cabinets. Now there is a solution, your average everyday "I don't cook that much" type a guy or gal will never be repulsed by the very idea of having to buy flour ever again. We, The Little Guys Corporation call it "Organic Flour" but you can feel free to call it a revolution.
Organic Flour is just what the name implies and that is that the flour contained within is, organic. But it's not the product that is meant to wow and amaze, it's the packaging. Organic Flour's packaging is easy to store, and is also clean and easy to use. With its dynamic rip and pour technology never again will you have to struggle and make a mess when trying to get a cup of flour. Organic Flour is packaged as two cups of flour which is just the right amount for anyone who doesn't bake that often and anyone that doesn't want to pay the high prices for a pound or two bag of organic flour. If you require a very specific amount of flour Organic Flour also gives you the freedom to pour and then reseal as needed.
In addition to the life changing packaging Organic Flour also offers a website and a QR code that leads you to that website found conveniently on the packaging. The website has an array of recipes that require only 2 cups of flower ranging from pancakes to banana bread. No longer will the need to use flour add stress to your cooking experience. It also won't add stress to our environment, with its cardboard packaging and use of soy based ink, Organic Flour is 100% recycleable!