Nature's Medley
| | |
| --- | --- |
| School: | California Polytechnic |
| Team: | Rebecca Kisch, Janel Takeda, Sally Yingst, Sarah Deffner, Catlin Khamashta |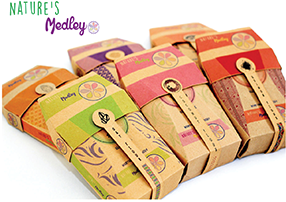 Although there is a sense of nostalgia in the crinkly, kraft paper bags seen at the grocery store,
little development has been made in the field of flour packaging. While society no longer uses
barrels or burlap sacks to store grain, the current packaging concept is not practical for modern
day use; the bags are messy, penetrable to pests, and often come in only one size. They are also
not resealable leaving the consumer to their own devices (tape, clips, twistie ties, etc.).
Additionally, recent dieting trends have begun moving away from traditional, allpurpose
flour towards healthier alternatives.
The solution is Nature's Medley, an assortment of six organic, glutenfree
flours stored in 100% recyclable, paperboard receptacles.
The six flour flavors are oat, coconut, almond, quinoa, hazelnut, and amaranth, and for those
who are unfamiliar with these nutrientrich
baking ingredients, Nature's Medley packaging is
printed with customer-friendly
greetings which introduce the consumer to the different flour types.
Each type of flour is stored in a twopiece,
resealable
parcel featuring a ninesided,
contoured
body, lid that double as a measuring cup, and builtin
easypour
spout. Its paperboard
construction is less susceptible to moisture and vermin in comparison to its predecessor, kraft
paper, but is still permeable allowing the flour within to breathe. These light parcels are smaller
than the standard one pound bags, but its ergonomic design allows the customer to hold the
product in one hand and easily stow it away after use. Additionally, they are sealed with a
tamperresistant
paperboard band which wraps vertically around the majority of the body.
Nature's Medley flour will come in a variety of sizes and colors. There will be small purple
packets for the shopper curious to learn about and try amaranth flour in a batch of homemade
stew to large pink packs for the knowledgeable customer planning to use coconut flour to
prepare three dozen muffins for a community bake sale. These vibrant colors and standard shelf
size packages make Nature's Medley easily recognizable to the consumer.
Furthermore, Nature's Medley will be available in a twostory,
cuboid shelving unit. This
secondary package will hold all six types of Nature's Medley, and act as a value sample box
aimed at the glutenfree
curious on a budget. Similarly to the "refillable product" concept, if a
customer runs out of one of the six flours in their kit, they can return to the store to purchase one
of the individual Nature's Medley parcels and replace the missing unit in their assortment box.
The shelving unit concept can only boost the customer return rate for a company and promotes
sustainability with its reuse.
To stay true to flour's original purpose as one of America's staple grains, the Nature's Medley
brand, logo, and design are simple, earthy, and organic. The package is inviting to both
experienced and novice bakers who would like to experiment with new ingredients without all of
the mess or pests. This is the sound of Nature's Medley.