Flow Mo
| | |
| --- | --- |
| School: | Portfolio Center |
| Team: | Sophia Farkas Vazquez, Chi Chi Motanya, Robert Hajeck, Domonil Thomas |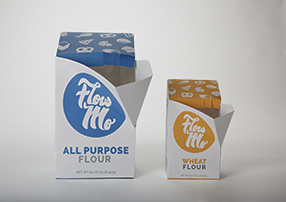 Introducing Flow Mo flour! Flow Mo has solved our flour packaging and storing needs. Our packaging
allows for more flow and fewer avalanches upon measure. Our package design takes the top of the
container, and transforms into a spout for pouring contents. The package should be handled on the
narrow side while pouring. We chose to use cardstock to give the package a strong form as well as
using eco-friendly materials to give people a reason to cook clean.
It's time to make cookies for that bake sale we've all been dragged into. Tired of your kitchen getting
trashed from flour and other baking headaches? We are too. The specially designed spout on Flow Mo
enables the cook to take back their kitchen countertops. By controlling the amount of flour distributed
at any given angle, our package takes a new, uncommon, 'pour-friendly' type of approach. In addition to
a stylish showcase, a low manufacturing cost is met by producing the entire package as a single unit.
The spout folds in and out of the box-like frame for whenever you're baking and battering needs are
necessary. The built in tab also keeps the package neat and tidy, and all the contents fresh.
All this speculation is not just for a flap. The science of Flow begins in the interior. The wax lining
prevents moisture from getting into the flour, a problem commonly found in Tupperware storage
containers. Our package kills two birds by providing a measuring indicator on the side to get that perfect
amount without the need of a measuring cup. Form is crucial in the use and storage of 'Flo Mo'. The box
exterior is made with handholds on one side to give it a better grip when pouring. Even the tiniest hands
can get this from shelf to counter with ease and without a drop spilled.
Our decision to go with an eco-friendly recyclable cardstock paper was a no-brainer. The material is
tougher and less likely to puncture compared to current paper packages. Our team believes in taking a
greener approach to packaging as a whole. We hope that our package has brought a new and rational
solve to the everyday problems all of us face with flour.