Flourful
| | |
| --- | --- |
| School: | Clemson University |
| Team: | Patrick Dudda, Greg Peidmont, Savannah Younts |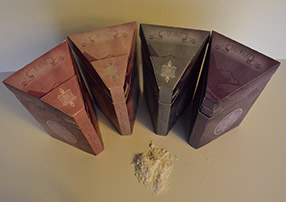 For the 48 Hour Repack Challenge, our team chose the flour packaging prompt because we have a strong interest in the food industry.  We came up with a package that included a paperboard measuring cup. The measuring cup for our brand Flourful, is equal to ½ cup measurement of flour. We were inspired with the cup idea when conducting a retail audit for innovative flour packages. During the audit, we found a package that was similar to the industry standard of flour packaging. The only difference to this design and the norm, was that the package contained a ladle-like measuring device that was cut from the bag itself.  Another reason the measuring cup was added to our package, was to minimize the amount of flour loss during the preparation of ingredients. Thus, Flourful was born to minimize flour loss, extra packaging materials, and ease of resealing after opening.
Another unique feature of our package is the lock feature on the front. This mechanism allows the consumer, after using the flour, to reseal and preserve freshness. In a retail environment, Flourful is sealed from the outside atmosphere. Upon purchase, the consumer will manually remove the measuring spoon from the package and then tear the perforated channels to access the Flourful product.
Flourful was created for the purpose of providing a unique package for the environmentally conscious consumer. The consumer will especially like that the package is made from 100% post-consumer waste and also that the package and the measuring cup are 100% recyclable! Flourful's view on sustainability limits the amount of post consumer waste that goes to the landfill when disposed of. The Flourful line contains four different kinds of flour: Buckwheat, Coconut, Organic, and Almond, each a unique flour of its own.
Flourful is intended to make baking easier and cleaner while still providing the consumer with cost-effective packaging and eco-friendly materials. Thus Flourful is "Baking Simplified."