Earnest Blue Farms
| | |
| --- | --- |
| School: | Creative Circus |
| Team: | Kelley O'Hare, IIana Wolstein, Chen Liang |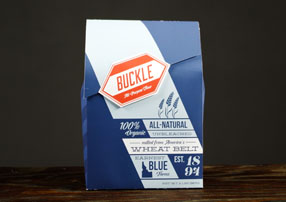 **Earnest Blue Farms is a fictional brand created to help tell the story of Buckle, a product
imagined to help guide the repackaging of flour in general.
After years of using typical flour packaging, the Marshall family of Earnest Blue Farms
decided to repackage their brand of organic flour in 2015. The family was of course well
aware of the frustrations that come along with using their product. They worked hard to
get the flour into the hands of consumers, but didn't want the consumer to have to work
hard to use it. Earnest Blue Farms repackaged their flour to address three main issues:
opening and reclosing, mess, and environmental impact. The new package needed to stand
out on the shelf but also remain easy to stack and transport. By restructuring the package,
the Marshall family was able to make it easier to both scoop and pour the flour.
For people who prefer to scoop, a flexible but strong recycled cardboard allows the
package to stand completely open at the top for easy access. This new structure combined
with a wax paper lining keeps the flour from sticking to the sides of the package and off
consumers' hands and clothing.
For people who prefer to pour, a tab on the right side of the package exposes a spout that
reduces large clumps and accidental over pouring. The depth of the package allows for
easy pouring with one hand.
The package is easily opened and reclosed by connecting the belt buckle through a flap on
the front of the package.
After a century of experience with flour, Earnest Blue Farms has finally created an
environmentally friendly package that allows customers to easily open, scoop, pour, and
reclose their flour.