Band+Aid
| | |
| --- | --- |
| School: | University of Bridgeport |
| Team: | Mamadou Sallah, Joseph Giampaoli, Terrell Griffith, Michael Christiano |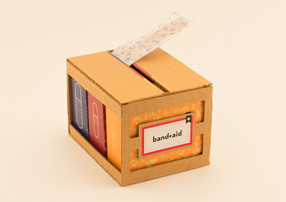 Cuts, scrapes and scratches are an all too real product of everyday life. Although we may not be
able to make it easier for you to avoid such injuries in the future; we can aid you in selecting and applying
the correct bandage. With out frustration free design we focused on a box for our band-aids that allows
you too clearly distinguish between different sized bandages. We took our frustration free concept to a
further degree by designing and incorporating a band-aid wrapper that allows for one hand application.
The wrapper allows you to simultaneously remove; unsheathe and then draw the next band-aid in one
fluid motion.
Our package consists of and outer and inner box featuring a modular system of smaller boxes
each containing a different size band-aid. Being able to replace one size band-aid as it becomes empty
frees the customer from the headache of having to purchase a new multi-pack just for one size, ultimately
creating less waste. The outer box is made entirely of recycled material and by creating an eco-system
where the consumer simply refills each size band-aid as they become empty, creates a new aspect of
reusability. We encourage our customers through the design of the package itself to keep and use the
package time and time again.
Graphic design is an integral part of each and every well designed product. We went with an
approachable and friendly design to appeal to parents and children alike. Color coding the different sizes
allows you to see where each size is located in the box. Colors also make it easy for children of a young
ages to quickly and easily recognize band-aid sizes without having to read text. Combining attractive
design with readable illustrations and graphics we have arrived at our design and are standing before you
now.