Udderly Fresh
| | |
| --- | --- |
| School: | Virginia Tech |
| Team: | Madeline Alden, Shifeng Chen, Anthony Page Clayton, Patrick McCampbell, Cyrus Adibpour, Elicia Huggins |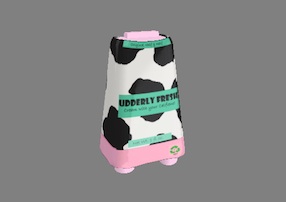 Our cream is udder-worldly. "Udderly Fresh" is straight from the udder and the ideal addition to your morning cup of ʻCalfiene.' There are two delicious flavors in the creamy line; original and hazelnut. The target audience of "Udderly Fresh" is ages eighteen to forty who want to start their day off the right way. Our brand is fun, recognizable and slightly unconventional. There is a convenience factor of having gourmet coffee at home instead of having to go out to obtain your morning fix. It is smooth, fresh, and the perfect complement to a piping hot cup of coffee. The bottle is appealing to local coffee shops based on the unique aesthetic and humorous placement of the cap.
The "Udderly Fresh" container is a 2-piece polymer structure, with a base dimension of 3cm wide and 8.2cm in length. The package is bell-shaped with circular knobs at the bottom representing udders. The package is convenient and consumer friendly making dispensing creamer easy by twisting a bottom udder cap, which is also re-sealable. The graphics are simple and clean with a black, pink, and white color scheme promote the playful image of a cow. The color of the text banners represents the flavor of the creamer as well (blue for original and a golden to orange for hazelnut). The aesthetic design evokes the feeling of a natural and homemade cream. The plastic screw cap provides a crush-resistant barrier that prevents the packaging from exploding, unlike the conventional peel-back lid. We chose to make our product out of Food grade rPET (recycled Polyethylene terephthalate) because it is the most recyclable and sustainable plastic. The package is also more resistant to accidental punctures than the traditional individual creamer cup. Our team placed the resin identification symbol on the front of the package to ensure that consumers recognize that the packaging is recyclable and sustainable.
The package contains two 15mL servings of cream because many consumers often use more than one serving. The re-sealable cap also works in favor of one-servings users, by allowing them to store the rest for later. The line includes small one-use bottles, and the large family-size bottle for avid coffee drinkers. The translucent appearance of the bottle greatly compliments the color scheme by giving off a whimsical appearance. "Udderly Fresh" may appeal to children, but it also evokes a home-style feeling to our target audience as well. The small nature of our package fits perfectly into any bag or purse, has a smooth texture, and gives a light-hearted laugh to our younger demographic. This packaging not only serves as a simple and convenient design for creamer, but a sentimental gift that brings happiness and a smile to our consumers.