SugarBush Maple Syrup
| | |
| --- | --- |
| School: | University of Wisconsin-Stout |
| Team: | Jacob Meicher, Wilson Beebe, Natalia Haywood, Cody Hartleben, Mark Barthold |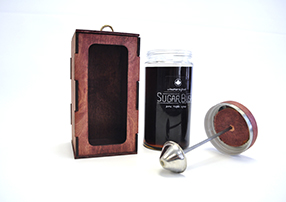 We are excited to introduce SugarBush, Wisconsin's finest pure maple syrup.
Maple syrup, a common breakfast commodity, is produced by concentrating the sap of the sugar maple, Wisconsin's state tree. In early spring, forests of sugar maple, are tapped by the hundreds at many commercial and family-run wooded areas managed for maple syrup production, also known as a SugarBush. Many family farms in Wisconsin and elsewhere across northeastern states and Canada, produce maple syrup as a source of income, gifts, or family use.
However, current poorly designed maple syrup dispensers contribute not only to a waste of a precious breakfast commodity, but also a sticky mess. The ritual involved in the application of maple syrup to a stack of pancakes has been lost in the age of plastic bottles and pouring spouts. We knew the standard of excellence associated with our product demanded equivalent quality of materials.
Every component of our product is derived from the centuries-old process of refining maple syrup. The materials are responsibly and locally sourced from the very land the product is made. The maple case and closure are made from trees that need to be cleared in order to maintain an efficient and sugarbush. This annual process of clearing the land of trees no longer healthy enough to sustain production yields some of the nation's most prized lumber. The stainless steel band on the closure also symbolizes the symbiosis of a spigot and bucket placed in a tree. Once tapped, the tree and spigot become one and grow together for decades. The recycled glass containers are part of a returnable, closed-loop system. This socially and eco-conscious business introduces a new way of thinking about and appreciating food and the world around us.
Our goal was to create a product that eliminates cleanup caused by the pouring method and create a dispensing system integrated into its original container. Our inspiration derived from a simple wooden honey dipper and a soup ladle which have a distinct function used for effectively serving or scooping up liquid.
By delivering a clean, contained system crafted from sustainable sources, our design is primed to become a family heirloom.