Riva Creme
| | |
| --- | --- |
| School: | Portfolio Center |
| Team: | Terence Raines, Morgan Owen, Oswaldo Diaz, Yusuf Muhemmad, Kelli Thomas, Ania Gilgenast, Damon Demaree, John K. Johnson, Sharion Biggers |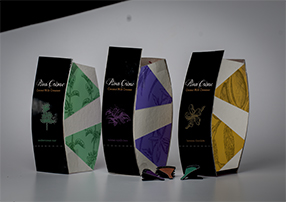 In our research we found mass-market creamer companies lack a true connection to the craftsmanship of coffee. But the quality of life and our well-being are directly derived from the quality of what we consume. And currently most coffee creamer brands are full of hype, not made with care, and lack quality right down to their packaging. This is why we created Riva Crème (RC), an organic, non-dairy Coconut Milk Creamer that uses only the highest quality ingredients in their products and packaging. Riva Crème discovered a perfect balance between healthy or lactose and rich barista style taste, providing our consumers with their own little luxurious indulgence.
RC's packaging was created to resonate with it's consumers through a grand artisan crafted feel, warm browns and pops colors inspired by the regions relate directly to our decadent flavor choices. Though luxurious in taste, and well desired, our products can be mass-produced easily and are affordable for our consumers. RC is easily packed and lightweight, which lowers the shipping cost. It also has an increased shelf life, reduces food waste, and is recyclable as well as compostable. In order to accomplish an ease of use, RC created a triangular, accordion style squeeze pack, with a finger grip above the folds. The squeeze pack material is made from Aseptic Tetra Pak processing, allowing the creamer to retain its texture and natural taste for longer periods of time. It is extremely cost-effective and foldable. The tip of the pack provides a convenient and intuitive opening using a perforable edge. Once torn and the consumer presses down on the thumb grip accordion, the pack releases the creamer directly into the coffee, leaving no room for messiness. Instead of using a traditional PET plastic for the tear off edge, the perforation will use Mirel, a biodegradable plastic developed by Metabolix. This polymer is certified compostable, and will leave a much lighter footprint.
The creamer inside is well protected by a Biopolymer as well; it works as an internal barrier that moves with the folds of the squeeze pack. Biopolymers are great for packaging dairy like substances, and protect our product against oxygen while increasing its shelf life. Since Biopolymers are compostable, they replace polyethylene used in coated papers, which eliminate plastic scraps. The Riva Crème box that holds the squeeze pack creamers are made of recyclable and environmentally friendly egg cartons. It has been sprayed and coated in a high gloss, soy based paint from DuraSoy Technologies. Soy based paint is water and stain resistance and a sustainable bio-based paint technology that does not contain hazardous ingredients such as propylene glycol or formaldehyde.
Riva Crème believes that the coffee world is changing, it has become an everyday ritual, setting up the day of many people. Well that day should begin with a convenient luxury, used to reclaim their morning. As a companion to coffee, creamers should evolve as well, by increasing the quality for it's own consumers, and taking health and sustainability to heart.