Red Cedar Syrup
| | |
| --- | --- |
| School: | University of Wisconsin |
| Team: | Jenna Coulson, Ashley Robins, Ricky Marteney, Sydney Gale |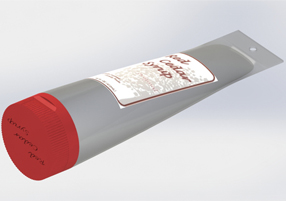 Let us introduce you to the new and improved way to contain and dispense syrup without the mess. First, our compostable PLA (Polylactic Acid) bottle is great for the environment with a strong and secure, recyclable polypropylene closure. The plastic is 100% post-consumer recycled material. The design of the bottle ensures the customer is able to get the last bit of syrup out, as it now stands on the cap.
Our new and improved syrup bottle has great functionality. We designed this bottle so that it saves space in the refrigerator, while saving space on the shelf of the store. Most consumers don't go through syrup very quickly, so our smaller offering can save consumers from throwing out bad syrup. One function that we thought was most important was the dispensing function. We all know how messy and sticky syrup can be and we have the solution. Using a design like Heinz's silicone valve, it helps the user direct the syrup exactly where they want it to go. Once the user wants to end the flow of syrup, they would stop squeezing the bottle which in turn reverses the valve. This creates a clean syrup bottle and no mess.
This product has a new and improved package form. Going off of what is already out there in the market, with a no mess objective, we took that concept and used it for syrup. This makes using syrup a lot less sticky. Having the malleable tube like structure will allow the consumer to easily squeeze out the product to get every last bit. This package is new to the syrup industry; therefore, it will stand out on the shelf next to the regular syrup container.
One of the biggest concerns while redesigning any package is ensuring that it can be easily manufactured. Because there are packages like ours on the market, we know this package can be constructed. The body of our package combines the structure of a lotion tube with the malleability of a gusseted cake icing packet. The tube would be induction sealed at the finish, bottom filled with syrup, and heat sealed before capping. The closure would then be screwed on and the package complete. Considering this process is already being used by many other companies, the Red Cedar Syrup Company could easily go through a co-packer instead of incurring large capital costs.
There is a great emotional connection at the point of purchase. In the stores, the bottle is able to be shelved or it can be hung through the integrated peg hole. The "Got to have it" feel will come as consumers realize the eco-friendliness of this package. As most people are trying to buy local nowadays, this product is great, as everything is taken from the Northwest region of Wisconsin. The silicone valve is beneficial as the syrup is not able to leak and the flow of product immediately stopped.