Pigasus Bacon Strips
| | |
| --- | --- |
| School: | Virginia Tech |
| Team: | Leah Keefe, Zach Shiner, Kristen Kettles, Michael Deck |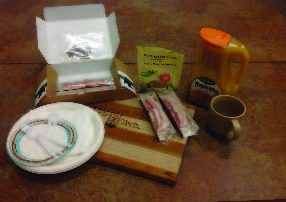 Every regular consumer of bacon has had to deal with the inconvenience of being unable to reseal the package. This leads to exposure to microorganisms and pathogens, as well as quality loss. Traditional plastic packaging is not recyclable or re-sealable. Instead of using the common vacuum sealed plastic bags used today, we used polyethylene lined paperboard. Each individual tray of bacon is wrapped in a good oxygen barrier, such as a multi-layer EVOH structure. Because each container is individually wrapped, there is no need to wrap the entire package in plastic. The food grade liner will prevent package degradation and food spoilage even when exposed to water, lipids, and harsh shipping conditions.
Our paperboard design can be assembled. By using only one color of ink during printing, we can reduce costs. The box has a trapezoidal shape that fits together nicely into a shipper for stacking on a unit load. The triangular ends add strength, and these boxes can hold plenty of weight during the distribution cycle, making sure the package is not damaged. We added slotted inserts for convenience. Not only does this allow you to quickly pull out a perfect serving, but also makes it easy for the user to put it on your counter with no mess or cross contamination. Each serving comes in its own individual tray and after all the portions are enjoyed the box is easily broken down and recycled.
We couldn't help but be inspired by the Latin phrase 'Ad astra per alas porci' (to the stars on the wings of a pig), coined by John Steinbeck. This led us to choose the 'Pigasus' as our brand name. Our marketing campaign will be focused on people that enjoy (and are willing to pay the extra) for organic foods. The brown outside of the box evokes an earthy, natural, feeling. The inside of the box is clean and white, helping to make the experience just a bit more pleasant.