Nest Eggs
| | |
| --- | --- |
| School: | Clemson University |
| Team: | Marcus Mrazeck, Ehrick Haight, Edward Couvillion, Richard Zarnoch |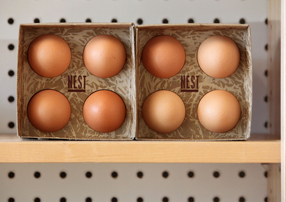 Of the prompts given, our group chose to repack eggs to improve upon the traditional and antiquated egg packaging. Currently there is little differentiation between competitors and there are no purchasing options other than 6, 12, or more eggs per package. The material typically used for egg packaging, expanded polystyrene, is also not recyclable.
Our package was designed to display the eggs so the consumer can quickly identify if the eggs are broken without opening the package. The eggs are nested and float between two insert flaps with egg-shaped cutouts. The bottom of the package contains a diecut window to view the eggs and allow the consumer to further inspect the eggs for cracks.
Despite the exposed design, the eggs are well protected. The side walls of the package extend above the eggs to provide stable stacking and to prevent crushing of the top and bottom of the eggs. The package is made from one dieline which makes it feasible to manufacture commerically. We unitized the eggs into two four-count packs connected by a perforation on one edge. This allows the consumer to purchase the eggs as an 8-pack, or a 4-pack. Because they can be purchased in the original 8-pack or an individual 4-pack; we included two bar codes. The barcode for the 8-pack is located on the perforation. This barcode will be broken in half causing it to be illegible if the consumer purchases a 4-count pack. To prevent charging an 8-count pack as a 4-count pack, the barcode is located on the inside panel that is hidden between the two four-packs. This barcode can only be read once the packs are split apart. Because the eggs come in packs of 4 or 8, the package weighs less.
From a sustainability perspective, we greatly improved upon traditional egg packaging. We rejected the commonly used expanded polystyrene packaging and produced our package from 22 point Kraft paperboard. We used bleached paperboard for white eggs and unbleached for brown eggs. Expanded polystyrene is one of the least eco-friendly packaging materials, where as our paperboard is 100% recyclable. Our package also uses a minimal amount of material to further reduce the environmental impact.
The graphics, branding, and marketing were inspired by the origins of eggs- the chickens and the nests they incubate in. The evolution of this inspiration led to the name of our brand, "Nest". The shape of the package forms a nest-like shape when viewed from the front. The birds nest artwork on these panels creates an appearance of the eggs "laying " in the nest. Our eggs come from only free-range, vegetarian fed hens. The color palette and artwork on the side panels conveys this information along with the simplicity and freshness of our eggs. Our motto, "Our Nest is Your Nest" truly connects the consumer to our packaging and brand.