Hood Pick Me Up Coffee Creamer
Hood Pick Me Up Coffee Creamer
| | |
| --- | --- |
| School: | UNIVERSITY OF BRIDGEPORT |
| Team: | Sean Evelich, Kelsey Day, Adam Gray, Jeff Jean, Ryan Peck |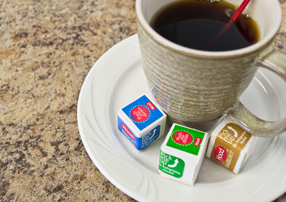 The newly redesigned Hood Pick Me Up coffee creamer is now an easy, one hand use product. Bringing back a retro milk carton inspired design, making a mess for your morning coffee is now a thing of the past.
Using recycled milk cartons, the Pick Me Up coffee creamer is even more environmentally friendly then existing non-recyclable plastic coffee creamers.
Pick Me Up is made of one material and requires no adhesives since recycled cardboard used to make milk cartons is coated with polyethylene in the container. The edges are simply pressed and heated, causing the polyethylene to bond together. Like classic milk cartons, all labeling will be directly printed on material prior to being die cut.
This simple design is easy to use and hard to forget. Just hold sides of container and use index finger to push down on top. The tempting red button helps reassure where you are supposed to push. As you push on the top, a spout is created to avoid a leaky creamer cup. The strong, straight supporting edges and bonded polyethylene ensure no accidental breakage in ones purse or pocket.
Whether you are having a quiet cup of coffee, or on the go, Pick Me Up coffee creamer is perfect for you.