Homestead Creamery Cartons
Homestead Creamery Cartons
| | |
| --- | --- |
| School: | Virginia Tech |
| Team: | Kristine Roupas, John Underwood |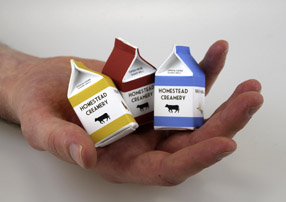 Coffee creamer cups are traps. When small amounts of force are applied to the thin plastic of the main cup structure, the whole structure buckles, the label is peeled from the rim, and whatever stuff it happens to be sharing a bag with gets sticky. If you manage to find an intact one at a restaurant or at work, you'll undoubtedly make a mess when the pressure of opening the seal squirts a few drops of the contents towards you. Get used to this feeling, because the small volume of product contained in each frustrating unit is never enough for most people to properly flavor a cup of coffee with just a single serving.
Instead of a flimsy plastic cup that is easily crushed in your purse or pocket, our design utilizes a paperboard material commonly used in liquid bearing cartons. The outside layer is comprised of lightweight paper to provide rigidity and structural integrity. Next, an aluminum layer is applied to the inside of the paper to provide the gas barrier needed to prevent oxidation and spoilage of the product. A final layer of polyethylene is applied as a final seal and water barrier. There isn't a precariously attached label/lid, and the package doesn't deform like a plastic cup thanks to the stiffer paperboard and cubic structure.
Not only are the Homestead Creamery mini-cartons stronger than conventional creamer cups, they are more sustainable. First of all, they are made entirely of easily recycled paperboard material. While the composite plastic material of typical creamer cups sits in landfills, our cartons can be transformed into new paper products after use. Primarily composed of paper, our paperboard owes most of its material to trees, which are a renewable resource. Plastic creamer cups cannot make this claim. Another benefit of the small paperboard cartons is that they can be shipped flat, saving space in trucks, which in turn saves gas and emissions. Our package also boasts nearly twice the volume of creamer cups, saving the consumers the hassle of opening multiple units and reducing waste in the process.
This package will instantly resonate with consumers. Who wouldn't be reminded of good times after seeing the familiar form of the product they enjoyed so often as children? The traditional colors are associated with creamer flavors of major brands already on the market, and the simplistic graphics reflect the classic nature of the structural design. Although this is a novel design for a creamer package, when a customer sees it, they will know exactly how to open it. They practiced this all throughout their formative years. The instructions "OPEN HERE" on the mouth are hardly necessary; provided more to reinforce nostalgia than to give direction.
This package is attractive, durable, and sustainable. More importantly, it's fun. It's cute. It reminds you of your childhood. When you see this tiny carton you can't help but want to play with it and explore it, just like you would have done when you were 8 years old.