Fat Stacks Bacon
| | |
| --- | --- |
| School: | The Creative Circus |
| Team: | Cheyenne Henderson, Stephanie Del Rosal, Drew Shields |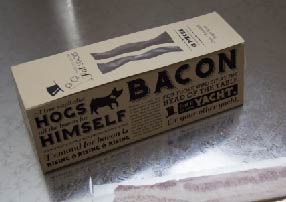 Many people consider bacon to be the most valuable breakfast food.
They really love this stuff!
We set out to address many practical issues that plague bacon‐lovers.
– Keep the kitchen counter clean by never removing more bacon
than you need from the box.
– Your hands won't get contaminated because each piece of bacon is
wrapped in a wax paper lining. From removal to placing on the
pan, the greasy bacon never touches your hands!
– Since each piece of bacon is wrapped, you can freeze the box
without pieces sticking to each other. In addition, the compact box
shape takes up less space in your already crowded fridge.
Best yet, this is a bacon packaging that's completely recyclable,
manufactured with:
– organic Bee's Wrap wax for the box lining and single-­‐serve wrappers
– recycled cardboard stock
– eco‐friendly, biodegradable adhesive
The design of the box pays homage to bacon's intrinsic value and is inspired by America's luxurious past. This gold‐bar design is adorned with witty quips fit for a millionaire munching on this fine swine. Now the finest part of breakfast has a package worth its weight in gold.