Cross the Road Eggs
| | |
| --- | --- |
| School: | Georgia Institute of Technology |
| Team: | Catherine Meschia, Amanda Foster, Michael Lehman, Sean Mackey, Rouxi Wang |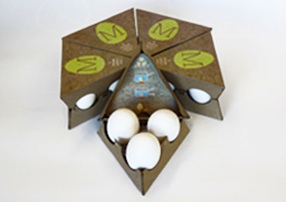 The main problem we wanted to address was the quantity of eggs sold in each package. Currently, people need to purchase eggs by the dozen or half dozen. We thought it would be best to offer eggs in packages of three, that way, people can buy what they need, whether it be three, six, nine, twelve, or more.
The triangle was chosen to highlight the feature of the three-egg packages. Triangles use less material than the current conventional packaging and can be easily tessellated, stacked, and rearranged into more space-convenient formations.
We included windows for the eggs so that customers will be able to inspect the eggs from the outside. The windows will also help to cradle the eggs and keep them in place.
If the customer wants to take an even closer look at the eggs inside before they buy them, they can open the lid and check them. The lid uses secure, but easy-to-open tabs that are also easily resealed. The user simply has to squeeze the sides slightly to open and close the package. When closed, the tabs are strong enough to hold the full weight of the eggs. If a customer picks the package up by the lid, it won't accidentally open and spill the eggs.
We color coded the packages based on the size of the eggs so that customers familiar with our product would be able to easily identify their eggs. For those new to our brand, we made use of a minimal graphic style so that only the most necessary information was displayed and easily found on the package.
The interior hay graphic was chosen to bring our customers emotionally closer to the natural origin of the eggs. Much like real hay supports eggs in nature, our support structures support the eggs during transportation and storage. The top and bottom support structures sit away from the outer packaging and provide an air cushion for the eggs for when the packages are stacked. The middle support keeps the eggs in place and away from each other so that they don't break when the package is moved.
We wanted our packaging to be more environmentally friendly than current packaging on the market. It would use post consumer recycled paperboard for the main package structure. The branding and graphics on both the interior and exterior would be printed using soy ink. The package uses a minimum of glue at the joints. Most of the components are held together with friction or tabs.
Our packages include a collectible insert underneath the lid that contains a series helpful egg preparation tips and recipes. The insert can be easily removed before the package is thrown away and kept by the user. Else, it is made of the same biodegradable material and can be thrown away without worry.