Coffee-Mate Quicksticks
| | |
| --- | --- |
| School: | Portfolio Center |
| Team: | Rob Hurst, Rachel Hudson, Gael-Marie Furbush, Erin Bishop, Emily Collom, Austin Anderson, Leah Ayer, Daniel Lockwood, Alexandra Rainey |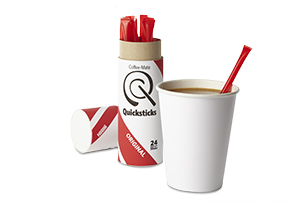 Coffee creamer cups are a hassle. Just opening them can lead to a milky mess all over your hands and clothing. Current single-serving creamer packages are so fragile they often break open, leading to a mess in your home, car or office. And where's the choice? All major brands of creamer cups have the same, thin plastic cup design. If you're lucky enough to get one open without making a mess, you find yourself searching for something to stir your coffee with. It's time for something different, something more functional, that produces less waste.
Our redesign of Nestle Coffee-mate® solves all of these problems. We started with the form of the container: why does it have to be a cup? We also looked at multiple uses for the product: why use so many separate tools just to make your morning coffee? Liquid can live in a variety of forms so we chose to marry the idea of creamer cups and coffee stirrers.
Quicksticks are intuitive and easy to use. When you grab a Quickstick all you do is twist off the bottom portion, breaking the tamper-resistant seal, allowing creamer to flow out through the bottom. A piece of angled plastic inside the bottom portion of a Quickstick slices through the seal. It twists in one full rotation, locks into place and can then be used to stir your coffee. Quicksticks can be purchased and stored in a variety of locations and our vertical-centered design makes them ideal for storage among coffee cups.
Coffee-mate® Quicksticks are made from HDPE post consumer recycled plastics. The sticks are one piece, similar in size to the standard drinking straw. This ultimately eliminates the need for a separate creamer cup and stirrer, cutting down significantly on waste. The containing package is made of recycled cardboard printed with soy based inks.
The look of our design is sleek and modern. We let the innovation and practicality of our design inform our aesthetic. The sleek verticality of Quicksticks immediately interests the consumer in the product. Quicksticks are for the on-the-go consumer. From students, to travelers, to working professionals, all types of coffee drinkers will enjoy using Quicksticks.