Buddy Joe Non-Dairy Creamer
| | |
| --- | --- |
| School: | Portfolio Center |
| Team: | Sam Kelly, Shane Kingery, Alanna Revear, Tara Segall, Natalia Ruiz, Lydia Dennis, Allison Carpenter, Lexi Earle |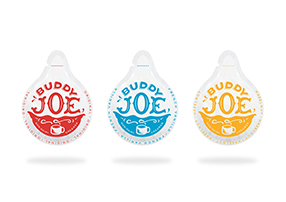 We are Buddy Joe, a pioneering line of non-dairy coffee creamer. We replace fragile plastic creamer cups with sturdy, yet flexible packets that transport easily, without being crushed en route. Moreover, our product is delivered in environmentally-conscious, compostable packaging that decreases material cost and waste while maintaining comparable product volume.
Created with the traveler in mind, Buddy Joe creamer packets are compact, durable, and easy to open. Consumers can carry our creamer packets in their purse, pocket, or briefcase, without worrying about creating a leaky, milky mess. The flexibility of the packets creates a more resilient packaging that is easier and softer to handhold. The flat packets conveniently fit into the recess on top of the most popular to-go cup designs, allowing consumers to neatly carry both coffee and creamer in one hand.
The silhouette of our creamer packets pays homage to classic creamer cups: a circle with a tab to tear away. This allows consumers to interface with a familiar shape while enjoying improved functionality. User experience is enhanced by providing a scored tab to pull away from the packet, exposing a moderate opening through which to pour the creamer. By inverting the packet over their coffee, consumers can experience the same romantic swirl of creamer through their coffee, without the mess that comes with creamer cups.
Conscious of our mark on the planet, we forgo aluminum packets in favor of NatureFlexTM, a compostable cellulose-based material that biodegrades in a matter of weeks. Buddy Joe packets can be discarded in the garbage can, or in the family compost bin. Because it is made of food- safe organic material, even packets accidentally dropped into the natural environment will quickly break down into organic matter once again, thus eliminating litter.
Buddy Joe non-dairy creamer packets are packaged in recyclable boxes made from 100% post- consumer content. Each box is crafted with a self-dispensing mechanism for more efficient use at home and in the office. Measured against traditional packaging of non-dairy creamer cups, our comparable boxes are significantly smaller, using 50% less material to ship the same amount of creamer. With flatter containers and slimmer boxes, we require less truck space to ship more product, further reducing our carbon footprint.