Blue Collar Bacon
| | |
| --- | --- |
| School: | Portfolio Center |
| Team: | Tayler Mulhall, Eric Anthony, Yann Baguet, Devan Carter, Sydney Vlass, Aimee Boulos, Rebecca Blankenship, Melvin Buchanan, Alicia Coleman, |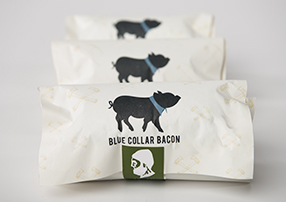 "Hardworking Bacon for Hardworking People"
Blue Collar Bacon is inspired by the exceptional hard worker. We like to eat our bacon with everything and recommend you do too. BCB is made from free-range pigs and is nitrate free ¬- it just tastes better that way. Our product is too good to waste, so this convenient packaging allows you to eat a single serving of three delicious pieces without
opening the entire pack; simply tear on the perforated lines based on how many servings you want to cook, then rip across the top to get the bacon in the pan. Need to store some for later? Toss the rest of the pack in the freezer.
Our packaging limits the direct contact between you and your bacon, which means clean hands. Tear your chosen portion size and pour the rolled pieces into a hot pan. A simple flick with a spatula and you're cooking. BCB also tastes great when cooked in the microwave or oven. Just tear the package, pour out the bacon, roll it open with a utensil, and cook it to your liking.
Whether you're eating alone or feeding the family, our packaging reduces produce as well as environmental waste. Our pigs are special and we want to keep their environment that way too!
Convenient packaging promotes bacon preservation and portion control
BCB limits produce as well as packaging waste
The package is designed to allow the user to only open the amount of bacon he or she wants to cook while leaving the remaining servings vacuumed sealed to preserve freshness, color, and taste
The packaging, made of PLA Plastic, is both biodegradable and compostable; This corn or dextrose based plastic is also freezer safe
Our bacon is separated into sections of three delicious pieces of bacon but in case you're cooking for more than one, you can tear across multiple sections with one easy step to cook more.
Three is our lucky number! BCB comes in three hardworking flavors to delight your taste buds:
The Mechanic: Our classic style is no fuss, no mess; just pure classic bacon delight.
The Lumberjack: Smoked in apple wood, this BCB is a sweet and smoky treat for your sweet and savory bacon applications
The Coal Miner: Cracked Pepper, spicy, savory, delicious; Enough said.