Applegate Bacon Strips
| | |
| --- | --- |
| School: | RIT |
| Team: | Kathy Beyerle, Baili Sun, Vinay Mutha, Yash Chaudhari, Beilei Wang, Erica Nwankwo |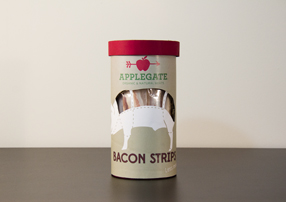 Breakfast is an integral part of everyone's day. In the United States bacon is a traditional part of breakfast and is still a family favorite. However, preparing bacon can be a bit time-consuming and bacon grease can create a messy experience, and kitchen. The current packaging for bacon is not particularly attractive on the shelves, and it is difficult to use for the consumer. As every bacon lover knows, although we'd love to eat a whole pack of bacon in one sitting, it isn't recommended.The current packaging on the market makes it difficult (& messy!) to not only remove a single slice of bacon at a time, but also to seal the pack after it has been opened.
When designing a new package for bacon we wanted to make sure that it eliminates the current inconvenience and creates a more enjoyable experience for the consumer to cook bacon. The new repack for bacon will consist of a secondary packaging made out of a recycled paper board.This casing will hold up to twenty-four individual primary packages each containing two bacon strips. Whenever the consumer wants to have less bacon they can simply just take out one primary pack made out of a single layer of film. Each primary pack will have a resealable tab to peel off the primary package, which makes it easy for the consumer to make bacon without having to come in contact with every slice of bacon in the pack.
The new package has distinctive design with personality. It's appearance, a round cylindrical design with attractive graphics, makes it stand out on the shelf among the mundane vacuum pouches on the market. The primary objective of this design, graphics and finishing is to appeal and draw attention of consumers. The functional aspects of our package feature ease of use for the consumer as well as or more hygienic alternative. This new package keeps the bacon fresh, convenient to open, and less messy.In addition, the secondary package is made from recycled paperboard and after its use it can be easily recycled, creating a more sustainable alternative. Our innovative repack gives the consumer what they've been looking for, a reason to eat more bacon!