#_Egg
| | |
| --- | --- |
| School: | Ringling College |
| Team: | Bruce Prudy, Gabe Rembert, Kyle Leicht |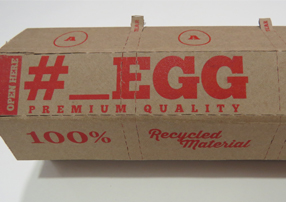 #_EGG (Numberegg) is a sturdy packing design that allows the eggs to rest comfortably within its packaging with out breaking like it would in a normal Styrofoam egg carton. Because of its unique design, there is a less chance of purchasing a broken egg.
The egg actually never touches the surrounding walls of the carton like a normal egg carton. Instead, it floats within its housing. #_EGG packaging also allows you to rip and tear however many eggs you would like at a time, right at your convenience!
It's also easy for you to store in your fridge (vertical storage). When you are done with the eggs that you have used, you can discard the excess packaging. No more wasted space for all the eggs you've already used. Just recycle the empty egg holders as you use them. #_EGG is made out of 100% recyclable material. #_EGG, isn't just a name, it's a movement. It tags along with todays society with using hash tag in everything. Simply just go to Twitter, Facebook, whatever else is out there today, and #_EGG your experience.