The Standard Dress Shirt
| | |
| --- | --- |
| School: | Portfolio Center |
| Team: | Elizabeth Kelley, Jille Natalino, Erin Bishop, Rob Hurst, Mary Durant, Joanna Milewski |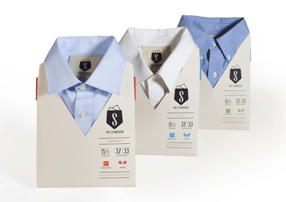 Dress shirts are a staple of the young professional man's wardrobe. Existing dress shirt packaging is a sea of the same. It offers no differentiation between brands, does not clearly state size or style variety, and is a wasteful combination of plastic, cardboard, tissue paper and hidden pins. Dress shirts are difficult to unpack, difficult to restock in the store, a pain (sometimes literally with all those pins) to disassemble at home, and the cumbersome packaging is contrary to the effortless style that a classic dress shirt is meant to provide. A simple wardrobe staple should be packaged as such.
The Standard is a line of shirts for the stylish, easy-going young professional looking for a simple look that suits his personality. These basic but hip shirts are a standard item in his wardrobe—something he can rely on for an everyday polished look. These shirts wear well, travel well and simplify his life.
The Standard streamlines the entire journey of a dress shirt, from manufacturer to distributor to store clerk to customer. By being cut from one piece of recycled, acid-free paperboard, and without using glue (tabs and folds keep it rigid and secure), the number of packaging distributors is limited. Once the shirt is packaged, it stacks easily and efficiently in a box for shipment to stores.
When the shirt arrives at the store, the upright form makes it easy for clerks to stock a tidy display, avoiding messy, toppling stacks and saving space on the shelf. When the customer decides to try on a shirt, the package easily and neatly unfolds. If he decides against purchasing, a simple guide inside the package allows the customer or retail professional to refold the shirt, leaving the package looking just as polished as when it arrived. Customers no longer feel guilty about leaving piles of packaging materials in the dressing room and are no longer hunting for hidden pins at home.
Once purchased, the customer has an ideal system for business travel. He can reuse the package to fold shirts for suitcase packing, or refold and pop out the perforated hook to create a structural shirt hanger for the hotel room or home closet. Extra collar stays are perforated into the packaging, eliminating the need for hang-tags and extra packaging. Everything he needs for a simple, stylish business trip—from maintenance to wearing—is included in the packaging.
The graphics on the package clearly and prominently indicate the size, style and fit of the shirt, the most important considerations when shopping that often get hidden by current packaging. Inspiration for the graphics comes from vintage tailor drawings, through gridded lines and triangular marks. Simplistic, instructive style sets The Standard apart from other dress shirts, which are currently indistinguishable from one another. A minimal color palette and bold, informative icons help navigate the style and fit options easily.
The young professional man is drawn to The Standard's promise of dressing well with ease, simplicity and style.