Swish Mouthwash
| | |
| --- | --- |
| School: | Ringling College of Art + Design |
| Team: | Kyle Chaplin, Sean Loring |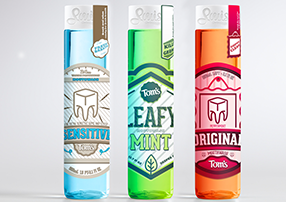 One problem with today's mouthwash packaging is the design of the cap; it's not as easy to open, as it should be. The lip of the bottle is always crusty after backwash, building up over time and amassing to an unsanitary bottle that we use everyday for hygiene. Once all the mouthwash is used, we dispose of the plastic container and then go by another one. What happens to that container that you just threw away? It ends up sitting in a landfill for years since this plastic is not biodegradable or eco-friendly, leaving a harmful carbon footprint. The form of most mouthwash containers are difficult to hold and pour, they don't always provide an accurate measurement when pouring the mouthwash into the cap. The problem with this is the amount of wasted product due to the fact that we make mistakes like spills, getting distracted and we don't always pour enough or we pour too much which sometimes leads to a sticky mess.
We have the solution to all these problems that are found in today's current mouthwash containers.
Tom's "Swish" Mouthwash is made out of a starch-based clear polymer that is made from corn. This container is totally biodegradable and renewable; if Wal-Mart carried these containers nation wide, in a year's time we could eliminate up to 800,000 containers from landfills. Our carbon footprint would practically be erased from eliminating plastic mouthwash containers from ending up in the trash. Instead they can now be reused over and over thanks to the containers being made out of a renewable resource.
Swish comes in three different flavors to cater to a wide demographic of people between the ages of 15 to 45. Leafy Mint, Sensitive and Original; all three are designed to be sold individually but when grouped together can be sold as a value pack. Leafy Mint is for people who want a deeper clean, Sensitive is for the people who have sensitive teeth and can't use other mouthwashes because of it. Original is the product that started it all and is the most popular choice of the three mouthwashes.
The form and function of our container is to create a mess free experience that's fast and sanitary. Swish has a sleek cylinder container design that allows for a natural grip around the entire container. No more oddly shaped bottles that are hard to hold, reducing the amount of drops or spilling. The lid sits inside the cylinder so any excess mouthwash gets run through our filtration system before returning back into the container. An added benefit of the lid sitting inside the cylinder is no more sticky containers and messy counters that are stained from mouthwash build up. The lid also serves as a perfectly measured amount of mouthwash for every use, simply flip the container over for three seconds and return it to its upright position and remove the lid. Now you have the perfectly portioned cup of mouthwash for you to use.