SmarShirt
| | |
| --- | --- |
| School: | Ringling College of Art + Design |
| Team: | Minzhe Chen Cheng, Edyta Laura Jaworek |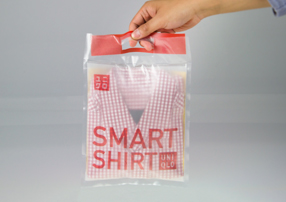 Power. Style. Luxury. Dress Shirts. Rated generously in terms of attractiveness, they come at a cost not only to you but also the environment. They are packaged in too many layers of cardboard, paper, plastic, and securing pins on top of that. With the recent notion of sustainable fashion trends, we have redesigned the traditional shirt packaging to reflect style, sophistication and elegance with sustainability.
For branding purposes, we have chosen Uniqlo and its wrinkle-free Wonderfully Low Maintenance Shirts that are sold on their web site.
We have decided to call our packaging "SmartShirt".
The SmartShirt bag is printed with soy ink and is made of bio-degradable starch polymers. It utilizes the space-saving technology of vacuum packaging, sucking just enough air from the bag to kiss the shirt gently, yet powerfully enough to provide support required during shipping. It is dependable and saves space, weight, and costs of production and shipping. It is also equipped with a handle. The bag dissolves in water leaving no toxic chemicals behind, so after you are done unwrapping a new expression of your status, you can feel like it has always been yours. You will forget that it has ever been packaged, and so will the environment.
SmartShirt also offers an improved aesthetic experience that goes with the spirit of modern day. It is both immediate and a lasting, sophisticated and minimalist. The frosted front fosters intrigue and the reflective metallic surface signifies finesse and gives in to the vanity of the beholder, acting as a mirror.
In the end, you are presented with a perfectly sustainable and beautiful packaging that is contemporary and stands for refinement and simplicity. For everyone, including the planet.