"No pins? No problem." Dress Shirts
"No pins? No problem." Shirts
| | |
| --- | --- |
| School: | RIT |
| Team: | Chad T. Krohn, Liana Charles, Raianna O'Toole, Prahal Saravanan, Nikunj Karani |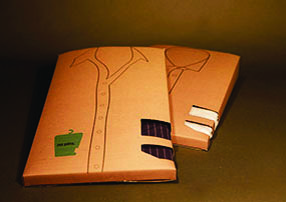 The product we decided to package was dress shirts. After an intense brainstorming session during which we examined innovative possibilities for all of the products, we decided that tackling the problem of pins in dress shirts would offer us the chance to offer solutions from both a structural and graphic standpoint. We had no idea that we could come up with a solution that not only eliminated the need for pins but would offer a convenient way to sell and store dress shirts.
Structurally, we completely eliminated the need for clothespins and four pieces of materials that kept the dress shirt wrinkle free. The four pieces of material included two paperboard pieces that were used on the outside of the collar and the backing. The two other pieces are made of poly vinyl chloride (PVC) were used inside the collar, and the top button cover. Polyvinyl chloride is not recyclable. After studying the folding process, we devised a way to hold the shirt on a paperboard hanger using only folds, tucks, and a creative insert that not only held the body of the shirt but also supported the collar and kept it crisp.
Graphically, we knew that we needed a clever and stylish way to present the dress shirts. We incorporated two sets of graphics, one for mens shirts and one for womens shirts. We also included a set of graphic instructions on the back. We incorporated a cutout "pocket" that would allow the user to view and feel their shirt. Our slogan is "No Pins? No Problem," and it is accompanied by a simple logo of our hanging structure. We decided that printing on the paperboard would not only be a cost and materials saving measure but would also allow us to present a simple, sustainable image for our product.
Environmentally, the paperboard is made of clay coated newsback (CCNB) which is composed of 60% recycled materials. The graphics are also printed with a soy-based ink. A soy-based ink that prevents structural damage to the boards within the packaging and is naturally biodegradable. The decision to eliminate pins and devising a way to hang the shirt with less paperboard are additional steps we've taken to ensure a more sustainable package.
In conclusion, our effort to eliminate clothespins resulted in a simple, sustainable, way to not only display shirts in a store but to allow for a convenient, temporary hanging method, perfect for events or traveling.
Lot of metal pins
2 plastic collars
Cardboard backing
Tissue paper
Size stickers