Land O'Lakes Stick Butter
Land O'Lakes Stick Butter
| | |
| --- | --- |
| School: | Georgia Institute of Technology |
| Team: | Zhenzhuo Zhu, Zichen Yuan, Qiqian He |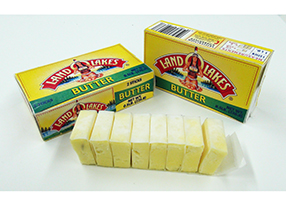 There are two common packaging types for butter: sticks and tubs. Stick butter is generally used as a spread and a condiment in everyday life, while tubs are more generally used in cooking. When considering stick butter in specific, the traditional method of packaging stick butter over the years has remained as fully-wrapping waxed or foiled paper. Most stick butter packaging have not been adapted for users' use patterns. These packaging not only cause mess when handling but also offers a poor way to reseal. We have decided to design an approach of the packaging of stick butter with ease of use, practicality, and sustainability.
We have repackaged the brand Land O'Lakes stick butter, a company whose mission is to set the standard for quality, creating products that represent simple goodness, while making the cooking and baking process easier and more enjoyable. The company states that their product is meant for family to share the pride. Therefore, we wanted to improve the experience with the packaging and enhance functionality. Stick butter has always been sold in the packaging with butter sticks 4.8″ long and 1.3″ wide, stacked two by two in elongated cube-shaped boxes (the Elgin, or Eastern-pack shape), or with butter sticks 3.1" long and 1.5" wide, sold with four sticks packed side-by-side in a flat, rectangular box (the Western-pack shape). We kept the original idea of waxed-paper wrapped sticks in a box, but decided to include two sticks per box. Each stick will include 8 butter cubes, each one in amount of 1 table spoon. The aim is to allow for smaller amount of purchase needs and reduce possibility of leftover.
In each package unit, we included two beeswax-coated paper layers, one in the form of a folded tray to separate each butter cubes, the other one is used for re-seal after use. The folded tray avoids any contacting between hand and butter while keep the manufacture process simple. User could get butter cubes by pulling the tab in the end of the tray. The design of separated butter cubes also eliminates the need for a knife.
The box has been decorated with original illustrations of the Land O'Lakes stick butter to maintain company branding. We chose to use soy-based ink for the printing process. We placed an opening on the box: a perforated tab at the top of the box that can be pulled to open down the back for easy access to the compartments. The box is constructed out of bio-degradable material that is no harm to the environment and cost effective.